Enhance the look of your pool with these simple poolside decor ideas. With some patio umbrellas, artificial agave plants, and more, you can add a lot of beauty to your poolside.
Patio Umbrellas
How do you choose the right patio umbrella?
Get mobile umbrellas: For all-year-round protection, consider getting mobile umbrellas for your patio. You can move them to wherever you or your employees or customers or guests want to sit. If you have got a large, spacious yard, mobile patio umbrellas are the best. Also, most movable patio umbrellas rarely require extra tools for installation.
Check whether they are larger than your table: In order to ensure you get proper sun protection, check if the patio umbrella you choose fully covers the area where you sit. You do not want to get tan or sun burnt.
Keep in mind the durability of the fabric: Since patio umbrellas need to be foldable, strong, lightweight, and stain proof, you should ensure your umbrella, too, meets all these requirements.
Poolside Chairs

Poolside chairs make sure there are no hunched backs! Simply dip your chair into the pool before you sit on the chair with your legs dangling in the pool. Make sure you pick chair colors that complement your surroundings.
Outdoor Shower

Get a funky-looking shower on the poolside to enhance the look of your pool. You could even color the walls or paint them to make them look more appealing.
Boxwood Hedges
Our artificial boxwood hedges make great additions to your poolside. Reach out to us to have them installed today!
Here are some ways in which you can maintain your faux hedges: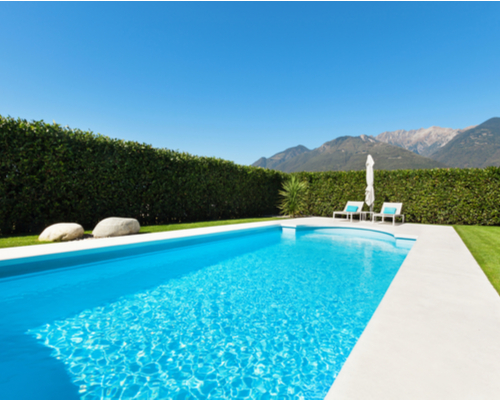 Use a feather duster to remove any accumulated dirt from the hedges.
Rinse it with warm water.
Wipe away the water and leave them to dry. If your hedges are exposed to sufficient sunlight, you can leave them to dry on their own.
Artificial hedges are so much easier to maintain. We are not just saying that because we run a business whose aim is to convince you to install our faux plants and products.
Multipurpose planters

What do you need to keep in mind when it comes to planting around pools?
There are three things. The first common concern is whether the chlorinated water splashing on the plants will be a problem. Thankfully, it isn't. In fact, it could make your job of watering them easier.

The second thing is dust and debris. This is a valid concern because if debris sticks to your plants, it can ruin them. Ensure you get plants without spines or cones for this purpose.

Lastly, avoid plants that require a dry climate, since there could be a lot of water splashing on them.
If you do not want to deal with maintenance, consider shopping for our artificial agave plant or fake bird of paradise plant today. We have got a wide range of faux plants you'll love.
Poolside Theater

Imagine lounging in the pool and watching a movie at the same time. You could make a list of genres for people to choose from as well.
If you want to make your own poolside theater, you can definitely make it possible. All you will need is a projector, a projector screen, a media player, speakers, and a few other useful accessories (like extension cords, a power strip, or a new router). To make the appeal of the theater cozier, you could also throw in some cute bean bags, pillows, and blankets. Maybe throw in some pretty fairy lights too. And do not forget the popcorn!
Lights Above the Pool

This will create a nice nighttime effect on your pool. Try it and let us know!
But wait, what are the best kinds of pool lighting? There are two types you can choose from: LED or Halogen. While Halogen pool lights may last 5-20 years, you can expect LED lights to surpass 20 years.
Also, Halogen lights might be better-looking than LED lights, but the latter uses up only half of the energy of the former. Another thing to be noted is that it is difficult to change the colors of Halogen lights. Whereas, LED lights offer over 20 colors that can be changed instantaneously with the help of a remote.
Add a Fire Pit

Not only does a fire pit cozy up the place, but also adds a somewhat sculptural element to it. You can even make your own fire pit. Looking for inspiration? Try the following:
Making a half-wall with some stone bricks, cement or heavy-duty glue is simple. You can make the process easier by first outlining the area you hope to cover.

Sounds strange? It really is not. If you have got an old washing machine drum that is of no use anymore, you can turn it into a very nice-looking fire pit.

The insides of a spare truck tire can serve as the base for a fire pit. Make sure you remove the rubber part of the tire though.
Simply dig a hole, place a few stacked stones around it, and that is it!
Incorporate poolside dining

A pool for your commercial space is awesome enough already. But poolside dining? Even awesome! And if you were to ever host a pool party for your commercial space, you could serve up some yummy pool-party foods/small eats like avocado salsa, tacos, hotdogs, sliders, and more. Hosting a pool party for your employees can help amp up your business too!
All in all, decorating your poolside is an excellent way to attract new customers to your commercial space. We hope these tips prove to be useful. And of course, do reach out to us if you are looking to install some beautiful, maintenance-free, artificial agave plants and fake bird of paradise plants.