×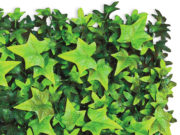 ID# IVEH36+
Topiary garden designs are often reminiscent of traditional Victorian Gardens where the English Ivy plays a prominent role. High hedges and topiaries created using the English Ivy are popular and highly functional and this English ivy in the hedge has the same wonderful qualities. Designed with the finely designed and pointed ivy leaves in green and a variegated cream and green. Standard sizing at 36" x 15" x 51", the English Ivy boxwood hedge can be customized to fit your specifications. Our UV-resistant fake English ivy topiary hedge will bring a crisp, striking look and feel to your landscape. Add this enduring classic in our premium outdoor Hedge foliage, created to also endure the effects of the sun and the weather.
The foliage of faux English Ivy topiary from Plantscape Commercial Silk is made using the finest quality plastic. The outcome? Shining and verdant hedges all set to decorate the outdoors of your commercial property – while also bringing a nice and vintage Victorian feel. The leaves of the artificial English Ivy topiary are meticulously manufactured to give the plant a totally natural look. The lush green leaves, interspersed with the occasional cream shade, create a stunning ambiance.
And it's not just about looks. The fake English Ivy topiary plants are also highly durable, courtesy of the quality of the raw materials that go into making them. Designed to last for a long time, the faux English Ivy topiary plants from Plantscape Commercial Silk require very little maintenance. Basic cleaning with plain water and regular dusting – that's all they need to maintain their looks. So what you got is a design option for your commercial space that is as beautiful as it is durable. This is something you can't refuse!
To top it all, our artificial English Ivy topiary plants are manufactured using our Permaleaf® technology. This enables the plants to withstand extreme weather conditions. They can also resist UV rays. That is indeed a big relief as far as their survival is concerned. Get in touch with us today. We would help you to beautify your commercial property with our fake English Ivy topiary plants.

Read More
| | |
| --- | --- |
| Foliage | Plastic |
| permaleaf | Available |
| Colors | |
| Downloads | |
Additional information
| | |
| --- | --- |
| Color | |
| Pattern Layout | Composition Sample |