×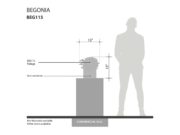 ID# BEG115R
An very popular landscape choice, consider adding our Artificial Begonia plant to your indoor landscape for added color and liveliness. Our faux Begonia is very realistic in appearance, made with the finest materials, and comes in a complimentary pot. We offer our Begonia in Rose, Salmon, or White to match almost any interior design and we can also customize the accenting pot. These can also be used in flower beds and as accents to potted trees for added color. All of our plants are low maintenance and durable.
Made from premium and long-lasting materials, the quality and durability of our artificial begonia plant aren't even a question. From the color of the flowers and its natural stem to its green foliage, our faux Begonia Plant looks and feels like a natural plant.
Our artificial Begonia plant is just as resilient as it is appealing. Don't worry about dust or water damaging the faux begonia plant. The water-proof leaves of the faux flowering plant can withstand almost anything, while the molecular build of our faux begonia plant prevents dust from forming on its surface. In addition, our artificial begonia plant also comes with special fire-resistant protection to prevent it from catching fire.
You can't go wrong with the flowering artificial Begonia plant from Plantscape Commercial Silk. With its lovely red hues and natural-looking flowers, our faux begonia plant can transform the look of your commercial or office space.

Read More
| | |
| --- | --- |
| Height | 15" |
| Foliage | Polyester |
| Colors | |
| Downloads | |
Product Data Sheet