×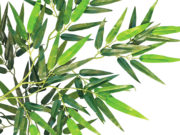 ID# BBWM72
Due to landscape designer demand, we manufacture an entire line of Bamboo tree products to meet project requirements across the globe. The Artificial Wild Bamboo Tree is a beautiful replication of a small cane Bamboo Tree, native to Southern Florida. Showcased as a cluster of bamboo, the canes are decorated with silky bamboo leaves that dance around the medium sized tree in a light and airy fashion. While often seen in Asian themed landscapes, bamboo is becoming a landscape staple for its useful application, maintenance-free quality, and joyful accent.
One of our most popular products, this artificial Wild Bamboo Tree can bring a feeling of relaxation into a space. Its realistic-looking foliage is sure to fool even the most seasoned of gardeners. Add to that its hand-selected natural wood trunks, and you have a winner on your hands. Use these to create unique privacy screens. Or line these faux Wild Bamboo Trees up to create pathways. These are perfect for temporary installations as well, such as school plays and auditions. And completely fire-safe for any space!
Our proprietary ThermaLeaf® technology ensures that the fake Wild Bamboo Tree that you take home is inherently capable of being fire-retardant. And will remain so for all its life. How do we do that? We add fire-retardant chemicals into our ThermaLeaf® raw materials at a molecular stage. This ensures that the chemicals blend well with the materials. The resulting artificial Wild Bamboo Tree is the ultimate in fire-safe foliage.
If you need to get this fake Wild Bamboo Tree customized, do not hesitate to reach out to us. At Plantscape Commercial SIlk, we understand that unique spaces require extra thought and tailored items. We can make this faux Bamboo Tree taller or shorter. We can add more foliage or thin it out. Let us know what suits your space.

Read More
| | |
| --- | --- |
| Height | 6'-26' |
| Foliage | Polyester |
| Trunk | Wood |
| thermaleaf | Available |
| Colors | |
| Downloads | |