×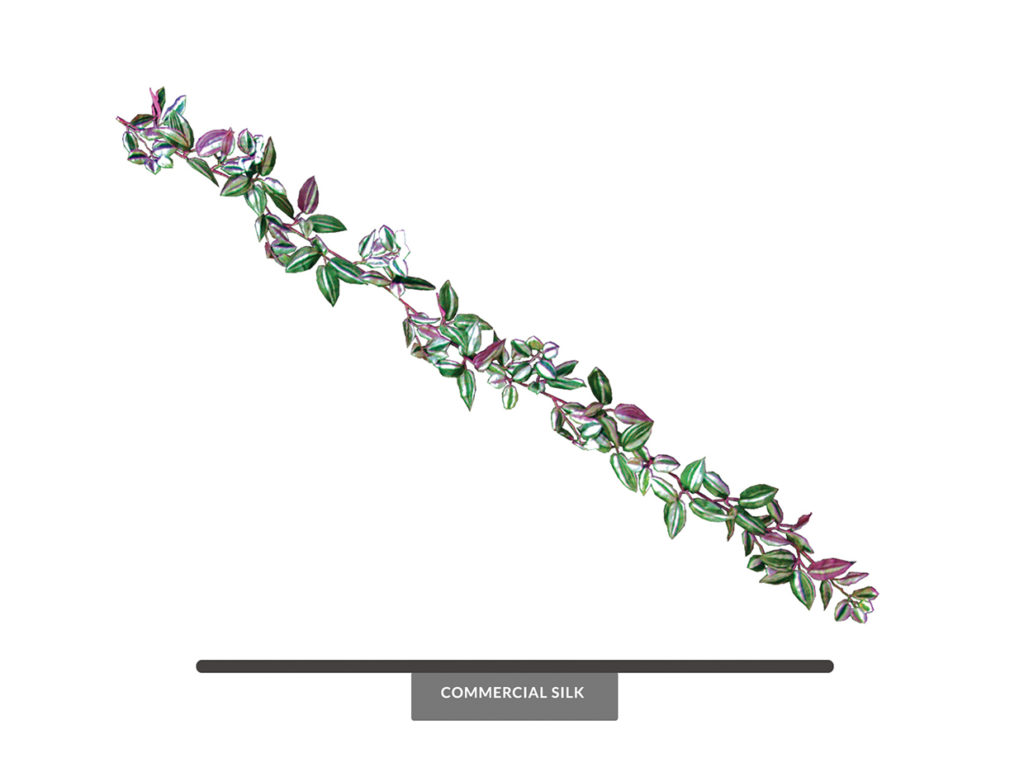 ID# WAN#72P
Our 72" inch Wandering Jew garland is a masterpiece of color, design, and variegated dimension. The leaves are perfectly crafted in green, purple, lavender, and cream tones, making this more like a floral accent to your décor. Use the Wondering Jew foliage to create a large hanging basket, accent ledges, entryways, posts, or planters. Our garland is comprised of 146 gorgeous leaves that will endure from season to season with little to no maintenance. Consider adding the Wandering Jew foliage to your office or commercial space. Ask one of our consultants for more ideas!
Depending upon the size of your space, these fake Wandering Jew garlands can be used for prettying up banisters. Or you can showcase them falling gracefully from hanging planters. These artificial Wandering Jew garlands can easily be fashioned into wreaths that are perfect for all seasons. Use them for hotels, spas, retail spaces, offices, commercial spaces, themed spaces, event spaces, and also focal points. The choice is yours!
Requiring almost no maintenance or watering, our faux Wandering Jew foliage will be sure to amuse you for years to come. Durable and long-lasting to a fault, these artificial Wandering Jew plants are available in ThermaLeaf© material too, for the ultimate in fire safety. Install these in your green space, and you will never have to worry about not meeting fire code requirements. With inherent fire-retardant materials used for creating these faux Wandering Jew garlands, these are truly the ultimate in fire-safe foliage.
We can customize our fake Wandering Jew garlands as per your specifications. No matter if you need a change in the size, shape, finish, or even installation method, Plantscape Commercial Silk can comply easily. All you need to do is give us a call, and share your requirements with us! And we can create your dream green space for you.

Read More
| | |
| --- | --- |
| Height | 72" |
| Foliage | Polyester |
| thermaleaf | Available |
| Colors | |
| Downloads | |
INSTALLATION METHODS
WALLS
Components can be affixed to interior or exterior surfaces with site specific systems to keep foliage full and secure. These can be affixed to Walls, Fences or even a Trellis.
CEILING
Attachment solutions can be catered to the needs of the site alongside the greenery being placed in, on and around existing ceiling structure.
GRIDS
Components can be formed and applied to existing gridwork.
SOFFIT
Attachment solution for pre-constructed ceiling substrates with low-height limitations. Requires minimal skilled installation labor. Ideal for remodeling spaces.
LIGHT FEATURES
IFR Greenery allows light features to have components wrapped in and around adding depth to the space.
FRAMED
Greenery can be customized to fit existing frames for unique Greenery scapes.
PLANTER INSERTS
Plantings are formed to interior, or exterior conditions allowing ease of installation, and ability to customize type, density, and easy swapping.
COLUMN WRAPS
Mats and components are formed to install around angles and curves to fit each location and dimension.
TRELLIS
Component attachment methods can be formed to the desired style and feel of the location.