×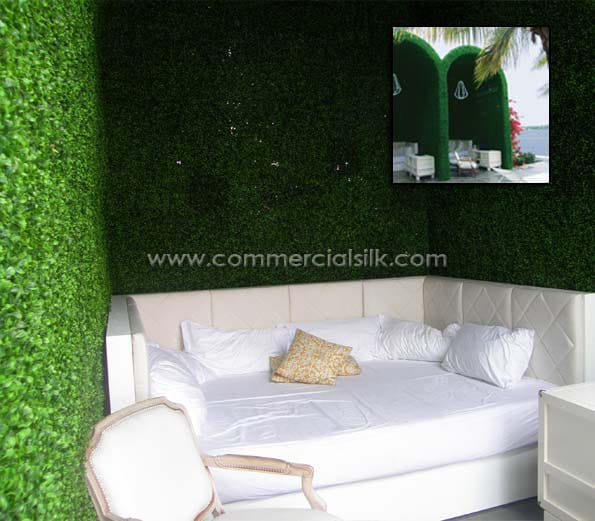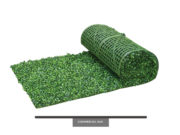 Artificial Boxwood Mat Roll Outdoor
ID# BOXH+48
Boxwoods have been used in hedge designs for many years as a renowned classic to biophilic designs. The boxwood mat roll is dense, lush, and leafy; This makes it perfect for creating privacy and offering coverage where needed. Made with premium materials, our faux greenery mat roll is incredibly life-like and created in gorgeous green with botanically accurate foliage. Manufactured in 24" x 24" squares, this tile design of greenery roll is easy to install for an immediate impact to your space. Take a moment to look at our photos for ways to use this faux greenery or talk with one of our design consultants. We offer a number of boxwood products, so let us help you with your interior landscape design.
Boxwood Roll Mats offer you the flexibility to cover huge surfaces with perfect boxwood greenery while still being easily cut and trimmed to the perfect size and shape for your green wall. Our rolls are also available in wider formats so you can be maximally efficient with your project, further reducing installation time and labor. No other company makes green wall creation so easy; With flexible snap-in backing and perfectly blending modules for a seamless, professional, botanically accurate feature. We also provide legendary UV and weather resistance to match our promise of a high-quality and durable product.

Read More
| | |
| --- | --- |
| Ideal Foliage | Plastic |
| permaleaf | Available |
| Colors | |
| Downloads | |
Applications
The Boxwood Mat Roll is the ultimate green wall starter kit. What you get out of the box is a roll of foliage attached to a plastic mesh backing, which can be easily joined with other foliage mats. Small plastic loops on the edges of the mesh accept plastic "spikes" from adjoining foliage mats, simply by pushing them through the loop. This creates a secure, seamless connection between green wall mats that looks totally organic with no repeating patterns or visible seperations. Because the mats are made on a flexibile grid, there are no issues with wrapping rounded surfaces like large columns or rounded walls, and the method of attachment can change to fit the needs of the project. The best part is that these rolls come ready-to-install, require no special skills, and can be assembled into a full green wall in a matter of hours, providing a high impact transformation with no interruption to daily activity.
Additonal Information
If your goal is a green wall, you've found the quickest and most affordable way to get there. These boxwood green wall panels are optimized for rapid results, covering nearly any wall surface and easily working around things like power outlets, angled ceilings, and other obstructions by cutting the plastic mesh on-site. Boxwood mats completely obscure the surface beneath it, making it the ideal component to create privacy barriers with a natural look. Build custom boxwood hedges, make a backdrop for your brand, and transform your outdoor spaces with weather resistant, fade resistant boxwood mats.
Flexible plastic mesh backing is easy to install, and suits a wide range of surfaces.
Inter-linking boxwood panels can be built to any size and scale.
Randomized foliage direction and detail guarantees no unnatural patterns.
Rolls come pre-assebled up to 4' wide, making installation even faster.